Yippieee…!!! I am Virtual Flight's Queen of the Skies, for July 2010.. !!! So, during August 2010, my avatar will be displayed at the homepage of Virtual Flights.. Hihihi… seru kan..?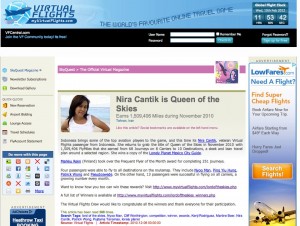 Apa sih, Virtual Flights..?
Virtual Flights adalah game virtual, online, bagi yang pingin terbang kesana-kemari mengunjungi berbagai negara di belahan dunia.. namun, ora ono duwit.. a.k.a kantong kering, hehehe…kita bisa beli tiket pesawat virtual untuk terbang ke tujuan manapun yang kita inginkan dengan uang virtual yang kita punya, sepanjang masih punya duit..