I always love to make handicrafts and design stuffs. I used to make Aidil Fitri cards and Christmas cards a long time ago back in school, and sell them. I just love doing it. Because of my hobby, I can buy myself a school bag. I was so proud back then, didn't have to ask my parents. 😀
This year, I decided to make my own Wedding Invitation, because I sometimes need a lot of time to search for inspirations, and I wanted my own personal taste in it. If I ordered the cards in a printing shop, I'm afraid things don't look the way I wanted to. I'm such a bawel person. Haha.
I wanted 2 types of Invitation: Printed in Balinese version for the elders and family, and Online english-version for my friends. OK then, start designing!
So… I started to design the inside part of my invitation card.. For romantic side of us, I chose a pink-cream-chocolate colour scheme. I just instantly remembered Chocolate milk with vanilla and strawberry fillings. Yummy!
Then I looked at some stuffs at the bookstore for some things to make my Printed Edition Invitation Cards:
– Thick Cardboard for the Invitation cover
– Linen Carton 100gr for envelopes
– Artpaper with textures for outside part of cover card
– Simple coloured paper for the inside part of cover card (90-120gr)
– Printed the invitation text and images that contain the wedding information at a printing shop (jasmine paper)
– Silver ribbons
– Glue, double-sided adhesive-tape, cutting mat, cutter, scissors
– Plastics for envelopes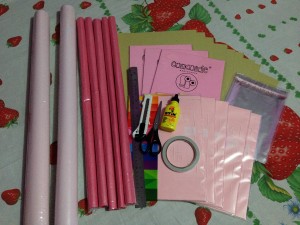 So I stared measuring and cutting according to the designs. And put them all together with glue or double-sided adhesive tape. Give accessories such as silver ribbons and printed circle-shaped card with our initials to give a luxury touch.
Then… design the half size envelope and put the invitation inside a plastic after you give label to it so it won't get dirty. Voila!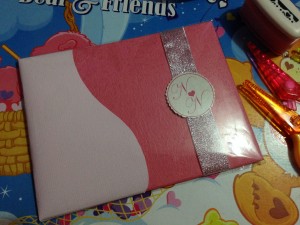 You see, it's not that difficult to make your own invitation card, right?
***
For the online-version, I designed a sketch first in photoshop what the invitation will look like. This time, I choose an adventure theme, 'cause, hey, our love is an ultra-marathon journey! My Bli is a one great programmer, so why not collaborate? What I did was:
– Make a small movie trailer for the invitation with our collections of photos and a movie maker software. Try to make a story
out of it, give some music that fits the story. No more than 1.5 minutes or people will get bored. Then upload it on youtube.
– Design the parts of the invitation.
– Do the coding part: embed the video and put the design into places –> that is my Bli's part.
Voila! The front page looks like this: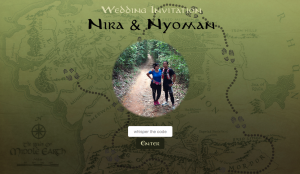 The inside? Later I will show.. hehehe..
Then, send it personally to friends.. 😀 Love it!